Murphy Beds and accessories
MURPHY BEDS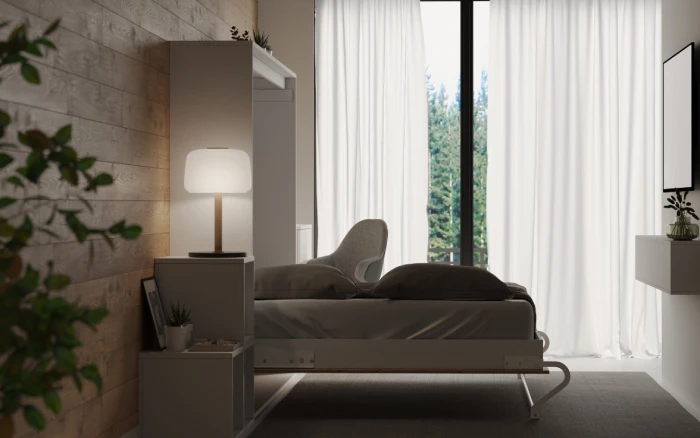 SHELVES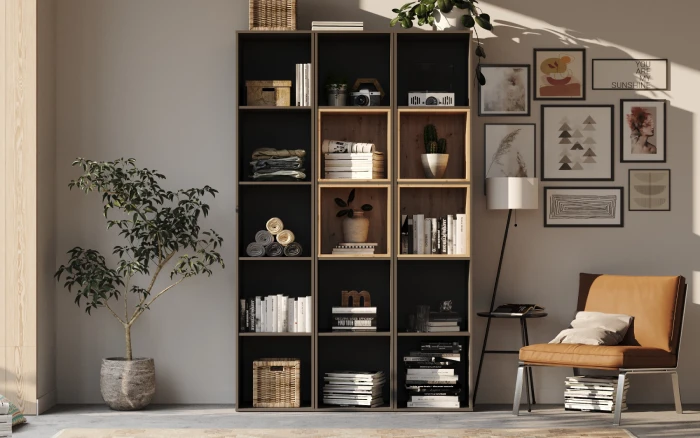 CABINETS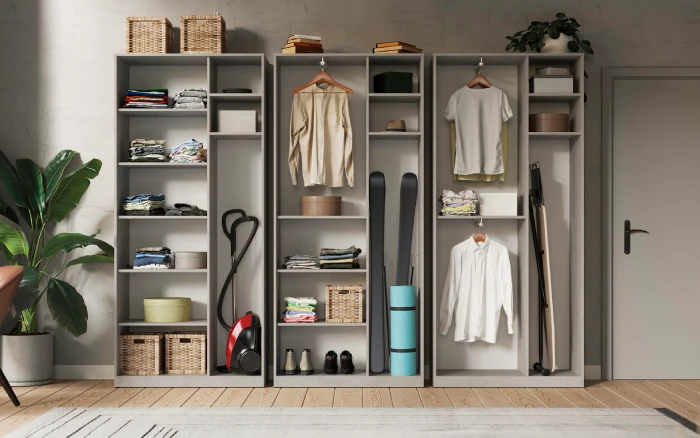 SMALL ROOM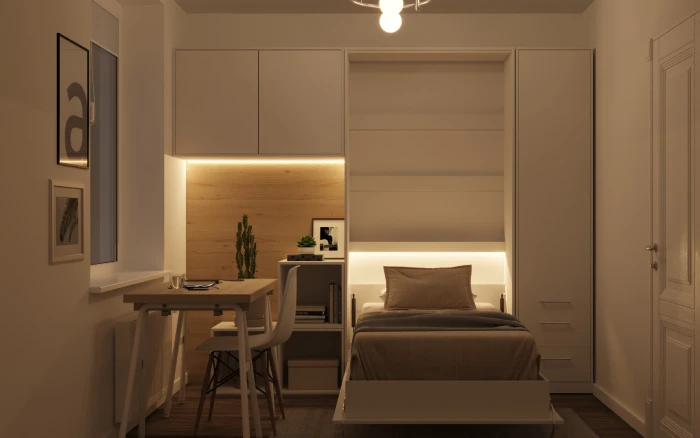 Vertical or Horizontal?
VERTICAL
A upright wall bed can be perfectly integrated in a wall unit or as a stand alone cabinet compatible with high ceilings. The smaller width of the upright beds, as compared to longways beds, creates additional room space for other furniture and accessories such as bed tables and closets within the room
HORIZONTAL
A longways bed, by contrast, does not necessarily have to be integrated into a wall unit and can be installed ideally like a sideboard or highboard. The interior storage space is over six feet high which allows for easy decorating ideas or to install additional shelves above the bed.
The SMARTBett Murphy bed is an elegant and compact
home furnishing designed as a modern cabinet with finishes that will enhance and match any room decor
Accessories
An example SET of 3 cabinets, 1 bedside table and a longways Murphy-Bed.
We will quickly answer your questions
* Our office hours:
Mon - Thu: 8:00 - 17:00
Fri: 8:30 - 15:00
Sat / Sun: closed
The prices of your telephone provider apply
General questions
How does the shipping work?
Your Murphy bed will be delivered by a forwarding agency. Small items will ship via GLS, unless the weight or volume should be too large. All agreements on the delivery date can be arranged directly with the forwarding agent: Before delivery, you will make an appointment by phone or you will receive an e-mail for an appointment. So we can ensure that you can personally receive your desired product.
Where is my order?
You can view the current shipment status of your order via the shipment tracking. In the shipping notification, which you have received by e-mail, you will find the link to the shipment tracking. If the status of your order is "delivered" even though you have not received any goods, please first check in the consignment tracking of the shipping service provider whether the package was delivered to a neighbor or in a parcel shop. If you have further questions, your order has not arrived completely after several days, or if the status has not changed, please send us a request so that we can check it. Simply click on the button below.
Can I set the delivery date?
You can tell us a preferred date when ordering, but we can not guarantee that this date can be met. Foldaway beds are delivered by forwarding agency. This will contact you directly by e-mail or phone to suggest a delivery date. Smaller wearen are delivered by parcel. In this case we can not influence the delivery time. For parcel service providers like GLS, you can track the shipping status online.
How is the return of a cabinet bed done?
If you want to return your Murphy bed, you have the possibility within 14 days after receiving the goods to send us a withdrawel. Simply click on the button below and send your request to our customer service. We charge a fee of 150,00 ? for a return or you send your order back independently. When picking up, you will be informed separately about an appointment by e-mail. Therefore, please also look in your spam folder. After the arrival of the goods in our warehouse, they will be checked immediately and then the amount will be transferred to you. Please pack the goods sufficiently (ideally in the original packaging) for safe shipping, since usually no additional packaging material can be brought.
Does SMARTBett also deliver abroad?
The offer is aimed at all customers in Europe. The shipping costs can be found
here
Can I change the specified delivery address?
Subsequent changes to the delivery address are only possible if the goods have not yet left the warehouse. Simply send us an inquiry by clicking on the button below. If the goods have already left the warehouse or the delivery has already been notified, a change is no longer possible.
Can I change my order and add items and services?
It is possible to add articles or services to a current order (exceptions are orders with the payment methods "on account" or "on installments").
Simply send us an inquiry with your wishes by clicking on the button below.
Which payment options can I choose?
All possible payment methods can be found
here
Why have I not received an invoice yet?
Your invoice receipt will only be sent after the delivery of the goods to your deposited e-mail address and is not part of the delivery. If you have not received a receipt of invoice one week after receipt of the delivery, we ask you to look in your spam folder. If you can not find an invoice there either, just send us a short message by clicking on the button below.
How do I receive a credit note?
Credit notes are always refunded by us with the payment method selected in the order process (exception: cash on delivery). Payments will be refunded within 14 days of cancellation. In the event that you have not received a credit note after this deadline, please send us your request by clicking on the button below. If you have received a defective refund, please contact us the same way.
For a successful verification we need the corresponding order number and a short description.
Why have I not received a credit note yet?
You will receive a credit note in the case of a return or a subsequent discount. In the case of a return, the credit note can not be issued until we have received the item you have returned and assigned it to your order. If you have not received a credit note within 14 days of shipping your return, please contact us by clicking on the button below.
all question >
Murphy Beds
Direct from the manufacturer
Returns quickly and easy
Buy